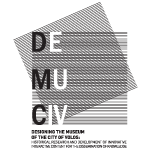 The research project DeMuCiV, part of Thalis program, deals with the historical and anthropological study of the urban phenomenon in Volos, the creation of data bases with the later and modern history of the city and its inhabitants, and the production of data bases and interactive applications aiming at widely propagating the research findings through the creation of a museum of the city of Volos. The research is conducted in collaboration with the Archives, Museums and Libraries Direction of the City of Volos. The building that will house the future museum of the city of Volos is located in the old part of the city, called The Palia.
Research in the proposed project includes:
A historical and anthropological research through which social structure, economic and productive activities and the relationship of the city with its surroundings are highlighted within a local, district, national, Mediterranean, European and global framework.
A comparative urban planning and architectural study of the city of Volos as a Mediterranean space.
Research on the design and realization of prototypes for the management and further exploitation of the material that will be accumulated and of the findings of the research for educational and other relative purposes.
Research on the exploitation of new technologies with a view to presenting and propagating the findings of the proposed project, on a standard basis, in the Museum of the City of Volos, which hasn't finished yet.
This research is a collaboration of three research groups:
The Department of Architecture, LECAD with V. Bourdakis as coordinator and G. Papakonstantinou, S. Papadopoulos as members,
"Volos in later and modern period" Department of History, Archeology and Social Anthropology of the University of Thessaly with Riki Van Boeschoten as coordinator and I. Laliotou, H. Agriantoni, V. Giakoumaki as members    
"Volos in the Network of Mediterranean cities, Transportation, Economic and Cultural Contacts", School of Architecture, Aristotle University of Thessaloniki, with V. Hastaoglou as coordinator and E. Maistrou, E. Athanasiou, C. Christodoulou as members and Cristina Pallini (Department of Architectural Design, Politecnico di Milano) as researcher external collaborator
The Department of Architecture is the coordinating department with G. Papakonstantinou as the coordinator of the research project.